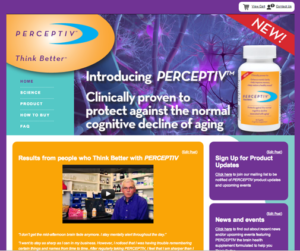 Project:  
www.thinkperceptiv.com
Sevo Nutraceuticals is a newly formed company in the business of licensing and bringing to market science-based nutraceuticals developed at research institutions and elsewhere. Its vision is to become a market leader in highly efficacious, science-backed nutraceuticals that improve people's lives with a mission to build a portfolio of high value products with clear markets that are leaders in their category. The company's first product, PERCEPTIV ™ is a cognitive nutraceutical that increases production of a key neurotransmitter – acetylcholine, which is responsible for transfer of messages between synapses critical to thinking and memory. The company wanted to market and sell their product online.
Gigasloop created the site including:
Shopping Cart
A product configurator
Client controlled coupon codes
Custom integration with Shipright shipping vendor
Complete content management solution
Credit Card Gateway – Authorize.net
Facebook and Twitter Integration
Technologies Used:
Wordpress, PHP, wp-eCommerce, MySQL, Credit Card Gateway, Shipping Vendor Integration
Elements:
Architecture, Content Management, E-commerce / Shopping Cart, Relational Database.