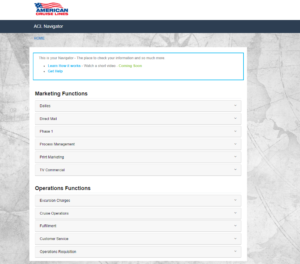 Project:
American Cruise Lines
American Cruise Lines provides guests with a highly personalized cruise experience. Ships explore the historic waterways of the U.S. as passengers cruise in comfort aboard the newest fleet of ships in the country.
Gigasloop created several applications in support of their master data management strategy and operational functions:
ACL Navigator – A comprehensive suite of applications in support of marketing and operations which support marketing inventory management, sailing instructions and docking reservations
Application integrations with email vendors and reservation systems
Reporting functions associated to Google Analytics
Survey data analytics functions
Onboard Passenger Excursion booking and payment
Financial Systems Integration
Technologies Used:
C#, ASP.NET, SQLServer, REST API
Elements:
Architecture, Relational Database, Application Integration, REST Services, Google Analytics Reporting API.