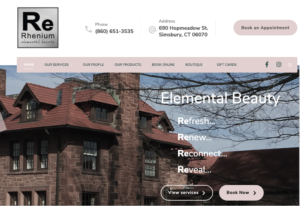 Project:  
RheniumSalonandSpa.com
Rhenium Salon and Spa is a high end hair salon offering styling and spa services in Simsbury, CT.  Rhenium also offers a boutique with products that meet their mission of offering sustainable beauty to their guests.  Products are sourced from companies that support their ideas of supporting sustainability and their surrounding community.
Gigasloop created the site including:
Online appointment scheduling
Online boutique for purchasing salon and fashion products
Complete content management solution
Credit Card Gateway with Stripe
Technologies Used:
Wordpress, PHP, WooCommerce, MySQL, Stripe
Elements:
Architecture, Content Management, E-commerce / Shopping Cart, Relational Database, Learning Management Systems.