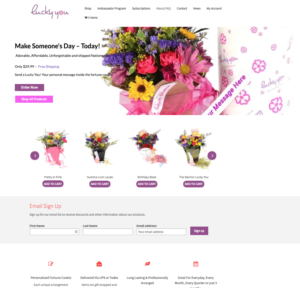 Project:  
LuckyYouFlowers.com
Lucky You Flowers is a small start up company selling adorable flower arrangements delivered to your doorstep through the mail or via shipping partners.  The company wanted to market and sell their product online.
Gigasloop created the site including:
Shopping Cart
Various product versions
Client controlled coupon codes
Integration with Shipping Easy
Complete content management solution
Credit Card Gateway with Stripe
Product Videos
Integration with Mailchimp
Technologies Used:
Wordpress, PHP, WooCommerce, MySQL, Stripe, Shipping Easy
Elements:
Architecture, Content Management, E-commerce / Shopping Cart, Relational Database.